HOW TO IMPLEMENT A NALOXBOX PROJECT
4 STEPS TO MAXIMIZE THE SUCCESS OF YOUR NALOXBOX
STEP 1
PREPARE
Develop a policy for use of the contents in your NaloxBox. Click here to download a draft policy. In addition, provide a training on overdose recognition and response including a CPR/AED training for all staff.
Training Video
STEP 2
RESEARCH
Research the naloxone access laws in your area to determine how best to stock your unit with naloxone. Click here to locate a health department nearest you for more information.
FIND YOUR STATE'S NALOXONE LAWS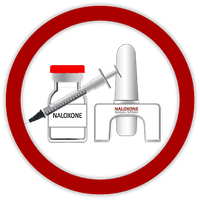 STEP 3
INSTALL
Choose an accessible and highly visible area inside your building to install your NaloxBox unit. This area should not be exposed to direct sunlight or extreme temperatures in order to protect the naloxone inside the unit.
SHOP NOW
SETP 4
COLLABORATE
The most successful projects use data and collaboration to ensure sustainability. Data gathered and shared from you will help measure the effectiveness of publicly available naloxone. Please register your NaloxBox so that lifesaving overdose tools are made available in your area.
TAKE SURVEY