RHODE ISLAND BASED INITIATIVE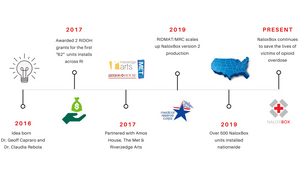 A BOX ON A WALL
As regulations were passed in Rhode Island to increase access to naloxone, the opioid overdose reversal drug, we struggled with where best to store the kits. Then someone said "how about a box on a wall? Like an AED or fire extinguisher".
And here we are. A box on a wall.
THE PROCESS
Whether you order 1 NaloxBox or 10 our team is committed to fulfilling your order to the highest standard. Every unit is single handily made and prepared for shipment by our partners at Amos House. The optically pleasing and easily recognizable graphics are courtesy of our talented graphic designers at Riverzedge Arts. When we say NaloxBox is a community-based effort we mean it!
COMMUNITY-BASED SOLUTION TO A NATIONWIDE EPIDEMIC
Opioid overdose can quickly lead to death if no intervention is made. If we begin to treat opioid overdose like any other bystander enabled medical response, we will begin to reduce the stigma often associated with opioid overdose.
Our state has been devastated by the number of overdose deaths so through collaborations and lessons learned we took action. As a nonprofit endeavor, we have partnered with other community programs that provide services to the under-served including the homeless population, those actively using drugs and those working toward recovery from substance use disorder.
NaloxBox units are installed in many public-facing spaces including city and state offices, libraries, universities, public housing authorities, recovery centers, and more.